LaundryLuv Blog
How Many Pounds of Laundry Do You Need For Pickup & Delivery Laundry Services?
9/20/2022
By Jessica Stoskopf
More Articles Like This:
Laundry day has never been easier! You can schedule a pickup & delivery time online, leave at least 15 pounds of laundry on your front doorstep and let our Laundry Luv team handle the rest!
There is no extra charge for our pickup & delivery service, we just require a 15-pound minimum amount of laundry.
So How Much Laundry is 15 Pounds?
The average household laundry machine holds 7-8 pounds of laundry. Laundry Luv has machines that can hold anywhere from 20 to 100 pounds of dirty laundry.
The graphic below is an idea of how much laundry equals 15 pounds.
The best way to measure the 15 pounds of laundry is to place all your dirty laundry in a laundry basket and set it on a scale to measure the amount. Make sure to subtract the weight of the laundry basket.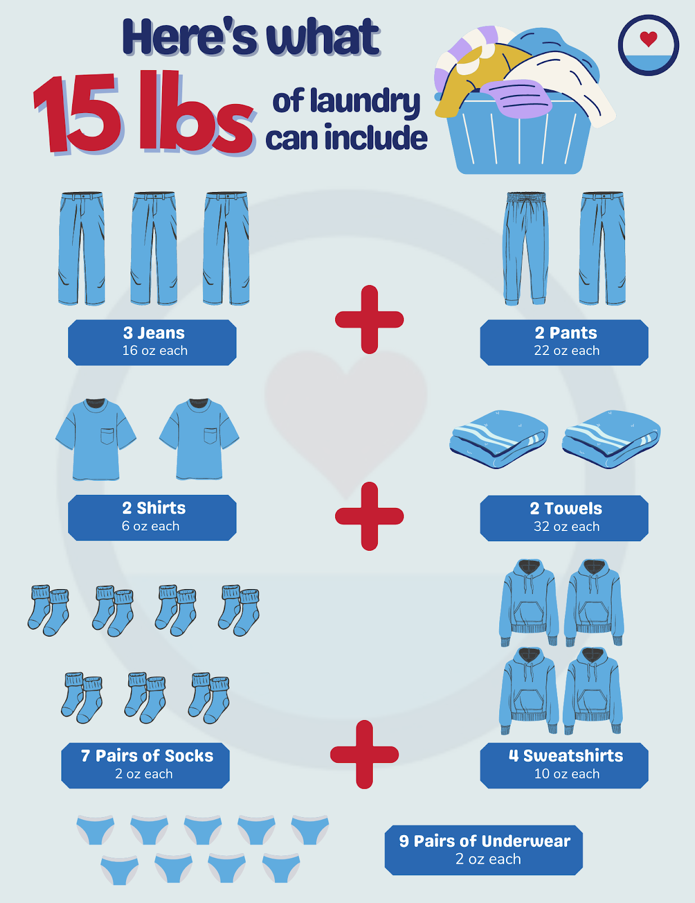 What about Businesses?
Laundry Luv also offers pickup & delivery laundry services for commercial businesses. Currently Laundry Luv services businesses like:
AirBnB's
Hotels
Veterans Memorial Cemeteries Event Centers
Doctor's Offices
& Other small businesses The same criteria is in place for businesses looking to use our pickup & delivery services - there is a 15-pound minimum, but no maximum amount.
Is Pickup & Delivery Right For You?
Pickup & delivery laundry services can be used by anyone in delivery range, but this service is especially helpful for someone with a busy schedule. Save yourself a few hours and lots of stress every week, by having Laundry Luv wash, dry, and fold your laundry. If you have special instructions, our team is more than happy to help at no additional cost.
If pickup and delivery is not right for you, we also have options like Drop-off laundry and Self- service wash, dry, and fold. You can come into a Laundry Luv near you to use our beautiful and clean facility and machines.
How to Schedule a Pickup & Delivery Service?
Visit: https://www.laundryluv.com/pickup-and-delivery
Click the red Pickup & Delivery button
Create a profile and enter your delivery address
Create a new order by choosing your service address, pickup day, and delivery day
Add any special instructions to your order if needed.
Enter billing information
Leave your laundry out on the scheduled pickup day. We will do the rest!